Berry and Granola Breakfast Cake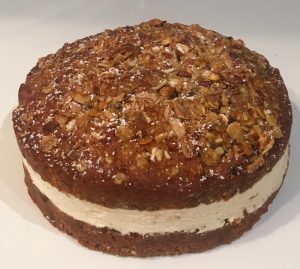 I'm a creature of habit when it comes to food. Pretty much every morning I have the same breakfast of blueberries, seeds, granola, yoghurt, nuts and desiccated coconut. Occasionally I may use mixed berries instead of blueberries but this variation doesn't last long.
Breakfast is probably my favorited meal of the day and my usual breakfast never fails to satisfy me. So it's not surprising one day whilst having breakfast I got an idea….I would use my fav breakfast ingredients and turn them into a cake.
This cake could have completely been a flop (even with the combination of tasty complementary flavours), however resulted in a super moist bake that was as tasty as I had hoped.
So simple and quick to make, this recipe is literally putting ingredients into a bowl, stirring and placing in the oven – as easy as that!
Ingredients:
Cake:
45g dates
2 tsn chia seeds
100g flour
1 + ½ tsn baking powder
100g granola (mine had oats, nuts, seeds and coconut)
70g sugar
100g butter, at room temperature
2 eggs
80g blueberries
Frosting:
115g butter, at room temperature
80g strawberry jam
35g vanilla yoghurt
Extra:
15g granola (oats, nuts, seeds and coconut)
Method:
Preheat the oven to 180c degrees and line a 20cm cake tin with baking paper.
Dice up the dates into small pieces and place into a mixing bowl.
Add the chia seeds, flour, baking powder, granola and sugar to the dates. Stir until well combined.
Add the eggs and butter to the date dry mix and whisk with electric beaters for 5 mins until the mix is creamy and fluffy.
Add the blueberries and fold in until combined through the batter.
Pour the mix into the cake tin and sprinkle with the extra granola on top.
Bake the cake in the oven for 40 minutes or until a skewer inserted in the centre comes out clean.
Place the cake on a cooling rack until cold.
Place all the frosting ingredients into a bowl and whisk with electric beaters until light and fluffy.
Cut the cake in half horizontally, placing the bottom layer onto a plate.
Top the bottom cake layer with the icing, then sandwich with the 2nd cake layer.
Enjoy!…YUM!
Note:
Using your fav store brought granola is prefectly fine (yu dont have to use the same granloa mix as me).
I used frozen blueberries but you can use fresh if you prefer.
Like this recipe? Subscribe via RSS or email to get my new entries and more scrumptious recipes with reviews.