Chocolate Avocado Peppermint Slice
You may notice that I bake every few months with avocado as an ingredient, where it's not generally the hero ingredient but a substitute for naughty ingredients (think butter, oil, thickener etc). This is mind, I decided that I would make a common flavour pairing slice (peppermint and chocolate) and turn this into a less guilty version.
If I added in avocado and used cocoa powder instead of adding in chocolate I could cut out primary refined processed elements and make the recipe more wholesome-friendly.
Of course it did take quite a few tweaks along the way to get to this final recipe but I am actually really happy with this one. It's super simple, doesn't need to be cooked, not too sweet but still tasty and does the 3pm treat trick.
How I see this recipe – think mint slice biscuits but a much nutritious version.
Ingredients:
Base:
120g flour
45g cocoa powder
75g brown sugar
90g butter
Filling:
280g avocado (2 avocado equivalent)
100g butter
100g brown sugar
¾ tsn peppermint oil (1 tsn if using essence)
Topping:
60g cocoa powder
60g butter
85g sugar
Method:
Pre-heat the oven to 180c degrees and line a 20x20cm cake tin with baking paper.
Place all the base ingredients into a food processor and blitz until the texture resembles fine crumbs.
Spoon mix into the prepared cake tin and flatten with finger tips.
Bake in the oven for 15-18 minutes until cooked then set aside to cool.
Place all the filling ingredients into the food processor and blitz until smooth and creamy.
Spoon the mix over the chocolate base, smooth with the back on a spoon and place into the freezer for 20 minutes.
To make the topping place all 3 ingredients into a saucepan on a medium heat on the stove and stir until the mix boils and the sugar has melted. You should have a glossy consistency.
Allow mix to cool slightly then pour over the avocado filling. Using the back of a spoon spread and smooth for a flat top.
Place in the freezer for 20 minutes, cut with a hot knife and enjoy.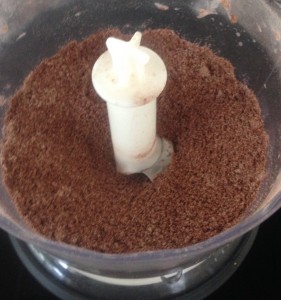 Step 2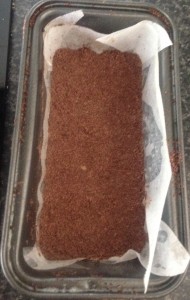 Step 3
Step 5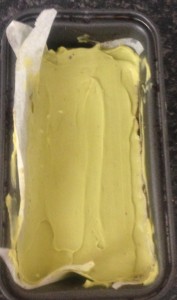 Step 6
Step 8
Like this recipe? Subscribe via RSS or email to get my new entries and more scrumptious recipes with reviews.