English Tea Passionfruit and Orange Cookies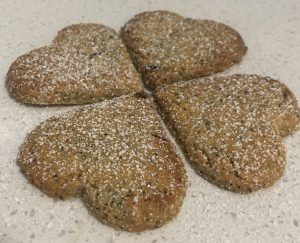 These cookies would have to be one of the best flavour combos I have done for a while.
I was making cookies the other day and divided the base mix into 5 portions to try out 5 different flavour parings where I was going to post the best recipe from the experiment (if any were post-worthy).
I could only think up 4 combos thus left the remaining cookie dough in the fridge to come up with something once I had a think about a pairing. I actually ended up not happy with any of the 4 cookies I had created so gave up on the bake session.
A few days later I saw the cookie dough in the fridge and threw a few ingredients into the mix I had in the pantry.
As I added the tea, orange and passionfruit pulp I started to play with the ratios until I got to a point that I was eating the dough raw as the flavour combo was so delicious. I baked the cookies and though I think the unbaked dough is more addictive, these cookies were simple and absolutely delicious either with a cup of tea or solo as a treat.
Ingredients:
100g butter
1/2 cup caster sugar
2/3 cup brown sugar
1 egg
½ heaped tsn orange zest
2 tbsn (fresh) passionfruit pulp
1 + ½ tsn loose English tea leaves
1 cup plain flour
1/3 tsn baking powder
1/3 tsn salt
Method:
Pre heat oven to 180c degrees and line 2 baking trays with baking paper.
Place the butter and sugar into a bowl and beat with electric beaters for 5 minutes or until pale and fluffy.
Add the egg and beat until well combined.
Add the zest, pulp and tea and beat until combined.
In a separate bowl place, the flour, baking powder and salt in a bowl and sieve.
Beat in the flour mix with electric beaters for 1 minute on slow.
Spoon 20g portions of the dough onto the tray, allowing for 5cm gaps between each biscuit.
Bake for 12-15 minutes or until the tops of the biscuits are golden brown.
Leave the cookies on the tray to cool for 5 minutes then place on a cooling rack.
Dust with icing sugar or drizzle with white chocolate for decoration, enjoy!
Tip: As soon as they came out of the oven I used a cookie cutter to cut heart shapes in each cookie (while still soft and pliable).
Step 2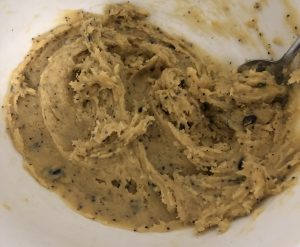 Step 6
Step 7