Pomegranate Orange Ginger and Cardamom Cake
So I have never cooked with Pomegranate before, nor have eaten it from memory. This fruit has been getting lots and lots of exposure lately so I decided that I wanted to make a cake with this ingredient.
It is quite an interesting fruit that I felt would lead to a good challenge for me as I am so unfamiliar with its flavour and texture.
After doing some research on flavours that may work with this fruit I ended up baking 3 very different cakes. These being:
Chocolate and pomegranate
White chocolate, cranberry and pomegranate
Orange, ginger, pomegranate cardamom (and almost cinnamon but thought that was going too far).
The outcome, as much as I wouldn't have thought this the Pomegranate Orange Ginger and Cardamom Cake was amazing! It tasted like Christmas Cake without the fruit in it. I'm no fan of Christmas cake but this cake it very very tasty indeed!
Ingredients
1 cup buttermilk
2 eggs
100g dark brown sugar
110g golden syrup
3 pomegranates
100 grams butter
1 orange
2 tsn ground ginger
½ tsn ground cardamom
3 cups plain flour, sifted
1 teaspoon bicarbonate of soda, sifted
¾ cup white sugar
Instructions
Preheat the oven to 160C and line a 30cm cake tin with baking paper.
Using electric beaters beat together the buttermilk, eggs, sugar, golden syrup, 2 tbsns pomegranate juice, butter and zest of the orange in a bowl.
Sift in the ginger, cardamom, flour and bicarbonate of soda and beat until just  combine.
Pour into the cake tin and bake for 1hour 15 mins or until a skewer inserted in the middle comes out clean.
Leave the cake to cool in the tin.
Place the remaining  pomegranate juice into a pot with the white sugar on the stove and mix to combine, cooking on medium until the syrup starts to slightly thicken.
Pour over the cooling cake until the cake is cool, then you can remove from the tin.
Scatter the pomegranate seeds on top of the the cake and well as a few orange zesting's.
Notes:
Step 3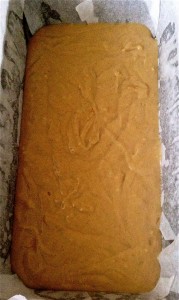 Step 4
Step 5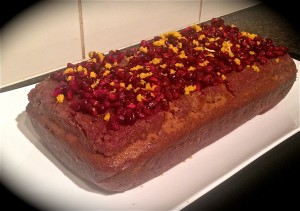 Like this recipe? Subscribe via RSS or email to get my new entries and more scrumptious recipes with reviews.