Semolina Spiced Mini Cakes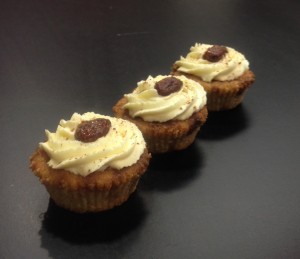 Recently I have been playing a lot with syrups for cakes, which has resulted in quite some playing with a variation of spices and essence (some I am familiar with and some not so much).
One of the syrups I made up was so amazing that I decided to create a cake purely based on the key spices and essence.
After thinking about what cake foundations would best hold and complement my new favourite spices and essences I ended up deciding on a semolina (almost polenta) cake.
It did take me 3 tries to get to this final recipe:
Attempt 1 –  was to produce a thin syrup, which just overtook the cake and flooded it.
Attempt 2 – was to make the syrup more of a caramel consistency, almost to a praline level. This just didn't suit the cake, it needed to have an 'icing' element that would work with the strong spices and tone down the sickly sweetness.
Attempt 3 –I gave up on the syrup idea and decided that this cake would be best eaten with ice-cream and cream as it would work wonders with the strong moist richness of the cake. Therefore whipped up some cream and success!
Ingredients:
Cake:
1 cup sugar
180g butter
1 tsn vanilla
1 tsn cinnamon
1 tsn cardamom
½ tsn star anise
6 threads of saffron
 ½ tsn rosewater essence
240g natural yoghurt
1 cup semolina
½ cup self raising flour
½ tsn baking powder
Topping:
300g cream
2 + ½ tbsn icing sugar
Method:
Preheat the oven to 180c degrees and fill 2 x 12 cupcake tin trays with cupcake liners/cases.
Using electric beaters beat the butter, sugar, vanilla, cardamom, cinnamon, rosewater, saffron diced and star anise until light and fluffy.
Add the yoghurt, semolina, flour and baking powder and beat until the mix is just combine.
Spoon the mix into the 24 cupcake patties.
Bake for 25 minutes or until a skewer inserted into the middle of the cake comes out clean.
Remove the cakes from the tin and place on a cooling tray until cold.
Meanwhile to make the topping whip the cream and sugar in a bowl with electric beaters until peaks form.
Using a piping bag and star nozzle pipe the cream on the top of the cold cake.
Remove the cakes from the patty cases and sprinkle with a little cinnamon on top.
Notes:
I have decorated the cakes with a sugar almond on top.
Step 2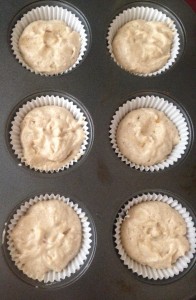 Step 4

Step 8
Like this recipe? Subscribe via RSS or email to get my new entries and more scrumptious recipes with reviews.