Vegan Chocolate Cake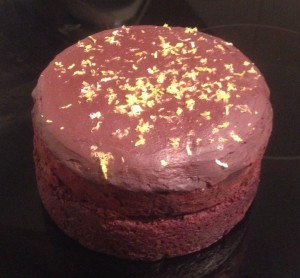 Recently I have had a few friends decide to go sugar free and have been complaining that all the sugar free sweet treats taste like cardboard and cost a fortune.
Seeing me eat chocolate is making them go red (we always want what we cannot have).
So I decided to make the ultimate easy, healthy, sugar free cake that caters for a range of intolerants and has easy to access ingredients (I'm not going on a road trip just to buy coconut nectar when I can go to Coles for a better alternative)!
By tactically using natural sweetener and fruit puree I have been able to keep the fat and sugar content really low while still producing a really rich and moreish cake.
As mentioned I have tried to cater for a range of people so created this cake egg, sugar, butter, chocolate and lactose free.
Ingredients:
Cake:
200g flour
110g cocoa powder
2 tsn baking soda
½ tsn salt
½ tsn ground cinnamon
60g oil
100g apple puree
150ml water
250g agrave nectar
60g banana
1 tbsn orange zest
Frosting:
60g cocoa powder
120ml orange juice
135ml agrave nectar
2 tsn orange zest
Method:
Pre-heat the oven to 200c degrees and line a 20cm cake tin with baking paper.
In a bowl sift the flour, cocoa, baking soda, salt and cinnamon and stir until combine.
In a food processor place the oil, apple, water, syrup, banana and zest. Blitz until well combine.
Pour the wet mix into a bowl and add the flour, cocoa, soda and salt. Whisk with a hand whisk until well combine.
Pour the mix into the cake tin and bake for 50 minutes.
In a bowl place the icing ingredients and with a hand whisk beat until well combine.
Once the cake is cooked leave in the tin for 5 minutes then turn out onto a cooling rack.
Once the cake has cold spread the icing on the top and decorate with extra orange zest.
Like this recipe? Subscribe via RSS or email to get my new entries and more scrumptious recipes with reviews.