Dried Date Fig and Honey Bread
After having some dried figs left over from my Fig and Grape Syrup cake and dates from my Date Spiced Syrup Doughnuts I decided to come up with a recipe that would utilize these two ingredients.
After doing quite a bit of baking with dried fruit in cakes, puddings and pies recently I wanted to step away and bake with dried fruit in a different way.
I have also been baking a lot with dough in the past few weeks and though not an expert I felt I had the confidence to take on bread making.
My favorite bread is raisin toast so I thought I would put my spin on fruit bread and make a gourmet fig and date version.
This bread warmed, with a spread of butter is pure magic tasting!
Ingredients:
400g white bread flour
½ tsn yeast
2 tbsn honey
100g dried figs
100g dried dates
1 tsn salt
½ tsn cinnamon
20g almonds
1 tbsn olive oil
Pinch of ground ginger
Method:
Preheat the oven to 200c degrees and line a baking tray with oiled baking paper.
Dice up the dates, figs and almonds.
Mix the flour, yeast, honey, salt, cinnamon, almonds, dried dates and figs in a bowl.
Place the olive oil and 280ml warm water in a separate bowl.
Mix the water in the dry ingredient bowl and once combine knead for 10 minutes until smooth and elastic.
Oil the bowl and place the dough back in the bowl, covering with cling wrap to prove for 1-2 hours or until the dough doubles in size.
Push-back the dough by kneading for 2 minutes, shape into a load shape and allow to prove again for 1 hour on the tray covered with cling wrap.
Once proved slash a cross on the top of the loaf and dust with a pinch of flour and ground ginger.
Bake in the oven for 40 minutes.
Allow to cool then slice and spread with butter, enjoy!
Step 2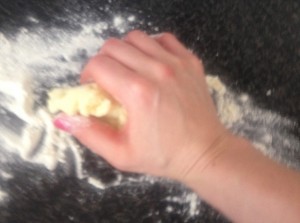 Step 5
Step 7
Step 8
Step 10
Like this recipe? Subscribe via RSS or email to get my new entries and more scrumptious recipes with reviews.