Frozen Ginger Gin and Citrus Cake

For a while now I have been experimenting with a flavor fusion in which I know absolutely works but just can't seem to make a recipe that is super amazing. Nice and tasty yes but nothing special enough to make it to my blog.
Finally, after a failed ice-cream meringue cake that had an ever-so-tasty ice-cream filling I reworked the recipe to change the meringue into a sponge and the outcome was exactly what I was looking for.
A deliciously fluffy sponge structure and a tasty textured ice-cream filling.
If you're a fan of gin and ginger cocktails you are going to love this recipe.
Ingredients:
Cake:
4 eggs
140g sugar
120g flour
2 tsn ground ginger
2 tsn lime zest
45ml gin
Filling:
1kg vanilla ice-cream
1 tbsn lemon zest
1 tbsn lime zest
1 tbsn ground ginger
80ml gin
30g almond meal
40g icing sugar
Extra:
10g icing sugar
1 tsn ground ginger
1 tsn lime zest
20g glace ginger (optional)
Method:
Preheat the oven to 180c degrees and line a 20cm x 40cm cake tin with baking paper.
Place all the sponge ingredients in a bowl and using electric beaters whisk on a slow speed for 60 seconds.
Pour the mix into the cake tin and bake in the oven for 10 minutes.
Invert tray onto a cooling rack and leave for 10 minutes.
Meanwhile, to make the ice-cream filling place the ice-cream into a bowl and place in the microwave on medium for 30 seconds.
Add the zest, ginger, gin, almond meal and icing sugar and using a hand whisk beat until well combined.
Peel the baking paper off the cooled sponge cake.
Line a 20cm x 20cm cake tin with 2 layers of plastic wrap, keeping it in place with oil spray.
Cut the sponge in half to make 2 x 20x20cm sponge pieces.
Place one piece in the base of the tin, cutting slightly to fit if need be.
Pour the ice-cream mix into the tin on top of the base until almost to the top.
Add the second cake piece to the top of the tin, push down slightly and place the tin in the freezer overnight to completely set.
To serve, place the bottom of the tin into hot water for 5 seconds, and pull the plastic wrap until the cake is out.
Invert the cake onto a plate and remove the plastic wrap.
To decorate I sieved the icing sugar and ginger over the top of the cake. Sprinkled the zest of the top and scattered the glace ginger.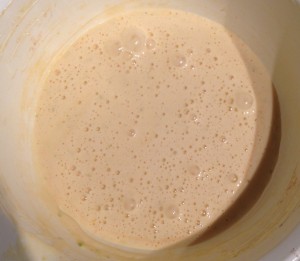 Step 2

Step 5

Step 7

Step 10

Step 11

Step 12

Step 14

Step 15
Like this recipe? Subscribe via RSS or email to get my new entries and more scrumptious recipes with reviews.