Lemon Avocado Meringue Pies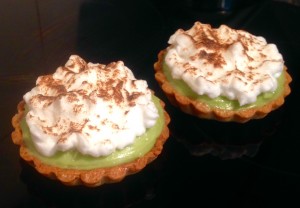 You may notice every now and then I dabble with incorporating avocado in my baking. Is it actually a great substitute for quite a few ingredients, in particular the more naughty baking ingredients. An example of past recipes include; Avocado Chocolate and Orange Mousse Tart or my healthily Guilt-free chocolate Icing .
Though this recipe does have condensed milk, (which let's face it it's exactly healthy – but better than refined sugar) I have used avocado as the lemon tart filling. So instead of the sugar dense lemon curd and/or mountain of sugar in the traditional filling (along with flour and who knows what in mass produced products) you are eating nutritional vitamin rich healthy fats.
As so much lemon juice is used in this recipe you don't taste the avocado, it literally taste exactly like a lemon tart.
To complete the treat I have whipped up some meringue and placed on the top with just a dash of sugar to keep with the lowish (lower than usual) sugar trend.
Ingredients:
Pastry:
200 plain flour
100 butter
30g sugar
Filling:
1 large avocado (200g)
320ml sweetened condensed milk
100ml lemon juice
Meringue:
Method:
Pre-heat the oven to 200c degrees.
Place the pastry ingredients into a food processor and blitz until the mix resembles fine breadcrumbs.
Add 40g of water and process until the mix resembles dough and comes away at the sides of the bowl.
Knead the dough for a minute then divide into 6 balls of 60g each.
With a rolling pin roll the balls into disk shapes and place into 6 small (3 tbsn capacity) tart cases.
Prick the pastry with a fork a few times on the base and place the tarts in the fridge for 30 minutes.
After 30 mins place some rice or baking weights onto baking paper and add to the center of each tart case to weight down the rise of the pastry base while cooking.
Place the tart shells in the oven for 10 minutes.
Remove the baking paper and weights and bake in the oven for a further 8 minutes or until the tart shells are slightly golden brown, set aside to cool.
To make the filling place the avocado, condensed milk and lemon juice in a food processor and blitz until silky smooth.
Spoon the mix into the cooled tart cases and place in the fridge for 30 mins to set.
With electric beaters whisk the egg whites on medium until soft peaks form.
Increase speed to high, while beating in the sugar until thick peaks form.
Spoon the meringue on top of the pies and blow torch the meringue until golden brown on top, serve.
Step 2
Step 4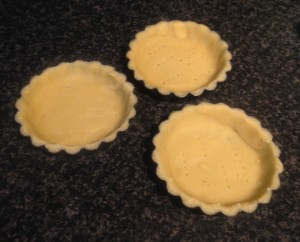 Step 6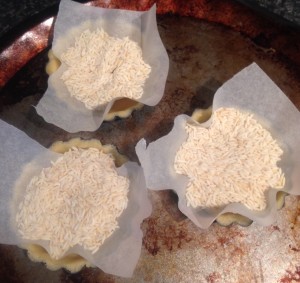 Step 7
Step 9
Step 10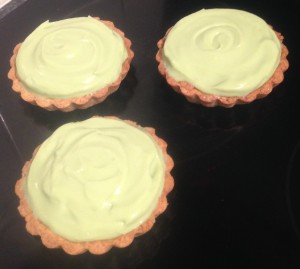 Step 11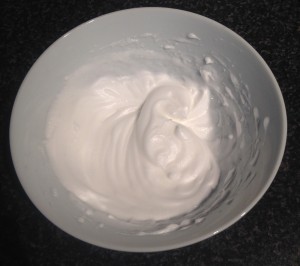 Step 13
Step 14
Like this recipe? Subscribe via RSS or email to get my new entries and more scrumptious recipes with reviews.