Spiced Bourbon Marshmallow Slice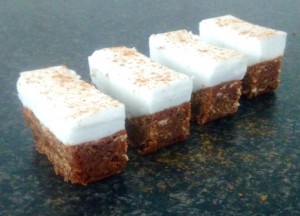 So I know that bourbon and chocolate go together very well (hello my Bourbon Chocolate Cake with Peanut Bourbon Icing recipe), however I wanted to use up some bourbon by making something different. Chocolate goes with most things as flavour parings tend to enhance and put a spin on the cocoa/cacoa taste. What I wanted to do was make a bourbon recipe that enhanced the bourbon flavour. On top of this as we know I do have a sweet tooth and bourbon is not sweet so I had to somehow also make it super appealing and absolutely tasty for by palate.
My solution to this was to play around with a variation of spices, mixing and matching until I found a set that went extremely well together, had similar flavour properties and also brought out the sweetness in the bourbon.
Sound impossible? See the below recipe and become a lover of bourbon!
Ingredients:
½ cup self raising flour
½ cup plain flour
¾ cup brown sugar
¼ tsn nutmeg
1/8 tsn ground ginger
1 + ½ ground cinnamon
1 + ½ mixed spice
100g butter
1 egg
1 tsn vanilla essence
Marshmallow:
1 tbsn gelatine powder
140g sugar
180ml cup water
4 tsn bourbon
Method:
Pre-heat the oven to 180c degrees and line a 20cm x 30cm cake tin with baking paper.
Place the flours, sugar and spices into a bowl and mix.
Melt the butter in a bowl and add the vanilla essence.
Stir the egg into the flour mix, add the butter mix and stir until well combine.
Place the mix into the cake tin and flatten with fingers.
Bake in the oven for 20 minutes then set aside to cool.
Make the marshmallow mix by placing the gelatine into half the water and stir to combine the mix.
Place the remaining water, sugar and bourbon into a bowl and whisk with electric beaters for 4 minutes.
Place the gelatine mix in the microwave until warm and syrupy in texture.
Slowly pour the gelatine in a consistent stream while the beaters are on high.
Continue beating for a further 8 minutes or until the mix is light and fluffy.
Pour the mix over the cooled slice base and place in the fridge for 2 hours to set completely.
Cut and enjoy.
Step 4
Step 5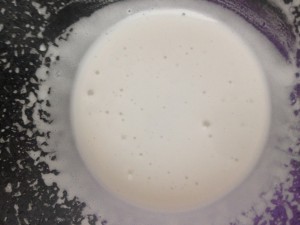 Step 11
Step 12
Step 12
Like this recipe? Subscribe via RSS or email to get my new entries and more scrumptious recipes with reviews.