So before I go into the next recipe post I wanted to take the time to acknowledge all the amazing people out there that have communicated to me via commenting on my blog.
There have been moments where the beautiful feedback has really been refreshing for me to continue experimenting further to new levels and puts a massive smile on my face.
Therefore as you encourage me I encourage you to continue the beautiful feedback as well as ideas on ingredients you would like me to experiment with.
Generally I focus on an ingredient or 2 that I go crazy coming up with recipes around until I finally construct a gem that is blog-worthy. It's generally an ingredient that I have not incorporated in cooking before. At the moment is lavender and pomegranate (stay tuned on this – my lavender recipe will wow your socks off). So without futher ado…
Popcorn Biscuits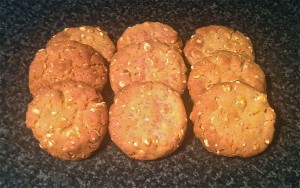 I have been noticing that the supermarket has started to stock salty and sweet popcorn. This got me thinking back to the salty and sweet trend again and how I trial with this again.
Now I have cooked with popcorn before (see my popcorn slice recipe), but not in the sense of highlighting salt and sweet so I decided to use this ingredient and produce a tasty treat. I contemplated a cake but figured the popcorn would disintegrate while in a moist long cooking period (maybe something I can revisit and experiment with at a later date)…
Therefore below is my recipe for the ever so simple and quick Popcorn Biscuits.
250g butter
130g sugar
80g condensed milk
300g plain flour
1 + ½ tsn baking powder
5 cups popped butter flavor popcorn
Method:
Pre-heat oven to 160c and line 3 big baking trays with baking paper.
With electric beaters beat the butter and sugar for 5 minutes until light and creamy.
Add the milk and beat for another few minutes until smooth.
Add the flour and baking powder to the mix and stir.
Add the popcorn to the mix, crumbling into small popcorn pieces as you add.
Using hands mix until well combine.
Roll mix into balls with hands to small golf ball sizes (30g in size).
Place balls on the trays and slightly flatten with hands.
Bake for 18 minutes or until golden.
Once cooked place on a rake to cool.
Notes:
If your not a fan of the sweet and salty you can use plain popcorn but you will loose a layer of the biscuit flavor.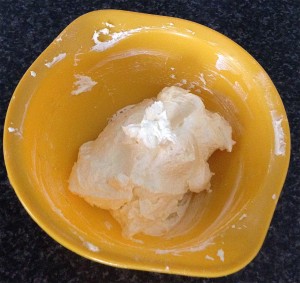 Step 2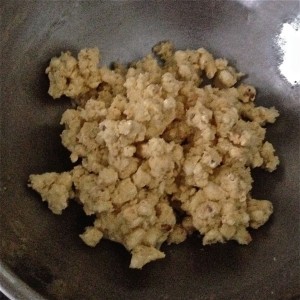 Step 5
Step 8
Like this recipe? Subscribe via RSS or email to get my new entries and more scrumptious recipes with reviews.