Ricotta Chocolate Hazelnut Cake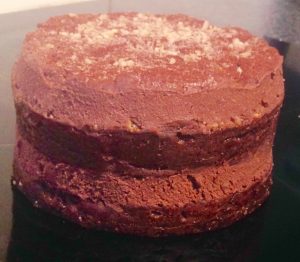 Just like many people I am a fan of Ferrero Rocher's, but am also mindful that 1 is never enough and they aren't exactly low in kj's. So I decided to make a cake that duplicated the beautiful flavors of chocolate and hazelnuts in a low sat-fat, low LDL 'bad' cholesterol and packed with protein super cake.
Instead of butter I have used low fat ricotta as the base core ingredient for both the icing and the cake, cocoa powder instead of chocolate and hazelnuts instead of the large amount of Nutella that Fererro Rocher's have.
This cake is lovely and moist, not too sweet but super moreish!
Ingredients:
Cake:
40ml water
½ tsn coffee granules
300g low fat ricotta
4 eggs

180g sugar

1 tsn vanilla essence

60g cocoa powder

235g hazelnut meal
Icing:
200g ricotta

1 tsn vanilla essence

60g butter

95g icing sugar

30g cocoa powder
Method:
Pre heat the oven to 150c degrees and line a 20cm cake tin with baking paper.

Boil the water and place in a small bowl with the coffee granules and stir until coffee is dissolved, leave aside.

Place the ricotta, egg yolks, sugar, vanilla and cocoa powder into a bowl and beat with electric beaters until smooth and silky.

Add the coffee and beat with the electric beaters until well combine and smooth.

Add the hazelnut meal and beat until combine.

In a separate bowl beat the egg whites until firm peaks form.

Add 1/3 of the egg whites into the mix and fold until combine. Repeat 2 more times until the mix is just combine.

Spoon the mix into the cake tin and smooth top with the back of a spoon.

Bake in the oven for 70 minutes or until a skewer inserted in the middle comes out clean.

Leave aside to cool in the tin.

Meanwhile make the icing by placing the ricotta, vanilla, butter, icing sugar and cocoa powder into a bowl and beat with electric beaters until smooth and silky in texture.

Remove the cake from the tin once cooled and cut in half horizontally.

Place

the base cake layer down and top with half the icing.
Top with the 2nd cake layer and top with the remaining icing.
Sprinkle with a little extra chopped hazelnuts and cocoa powder and enjoy!

Step 2

Step 5

Step 6

Step 8

Step 11

Step 14
Like this recipe? Subscribe via RSS or email to get my new entries and more scrumptious recipes with reviews.