Quinoa Honey and Peanut Butter Biscuits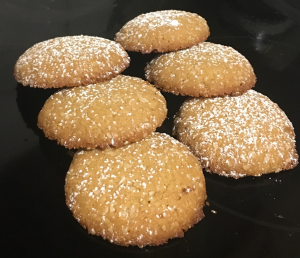 In an attempt to eat gluten free, I brought a packet of quinoa flakes to use as a rolled oat substitute for my porridge. As much as the substitute seemed consistent with rolled oats I didn't fall in love with the texture.
So, after opting back to oats I had a half full packet of quinoa flakes that I didn't want to waste.
The solution? Get experimenting. I figured if the flakes were mostly used as an oat substitute I could bake with them just like I do with other cereal ingredients.
Knowing this ingredient pairs well with common breakfast flavors I played around with a few flavour combos before I landed on honey and peanut butter.
These 2 ingredients go so well together and using the quinoa flakes as a base biscuit ingredient went just as well as oat bran, flour or oats do.
To keep with the gluten free theme, I used rice flour instead of the usual wheat flour for gluten free friendly biscuit-y goodness.
I had low expectations for this treat and to be honest was blown away by how tasty it is.
Ingredients:
55g brown sugar

80g butter

110g honey

90g peanut butter

1 tsn vanilla essence

200g rice flour

1 tsn baking power

¼ tsn salt

110g quinoa flakes
Method:
Preheat the oven to 180c degrees and line 2 large baking trays with baking paper.

Place the sugar, butter, honey, peanut butter and vanilla into a saucepan on a medium heat.

Stir until the mix is well combined, silky and bubbling on the sides of the pan. Set aside to cool slightly.

Sieve the flour, powder and salt into a bowl and add the quinoa flakes, stir.

Pour the butter mix over the dry mix and stir until well combined.

Put the bowl of the biscuit mix into the fridge for 30 minutes to cool and slightly harden.

Next roll the cooled dough into balls 30g in size and place onto the trays.

Using a fork push the balls in the center to flatten.

Place the trays in the oven to bake for 15 minutes or until the biscuits are golden brown in colour – leave the biscuits on the tray to completely cool.

Enjoy!

Step 2

Step 8
Like this recipe? Subscribe via RSS or email to get my new entries and more scrumptious recipes with reviews