Green Tea and Raspberry Slice
I have no idea where this recipes inspiration came from. I believe I wanted to use up some Matcha powder I had left over from recent baking.
To mix things up from the norm I wanted to play around with weird and unusual flavors I could pair with the Matcha's green tea taste that would surprisingly work like partners in crime.
After a bit of experimenting it was the Green Tea and Raspberry pairing that was an interesting and tasty concoction of flavors.
Now if you are a follower of my blog you will note I have struggled in the past with green tea, which was a frenemy ingredient of mine until my recent Green Tea Melting Moments. This influenced me to make the green tea cake base as simple as possible.
It's the raspberry layer where I have added in my unusualness by making a somewhat jelly style raspberry icing layer.
Another creation that has succeeded in impressing 🙂
Ingredients:
Cake:
125g butter
115g sugar
1 tsn vanilla essence
1 egg
175g self raising flour
3 tbsn matcha
Icing:
200g raspberries
155g butter
80g icing sugar
2 tsn gelatine powder
75ml hot water
Method:
Preheat the oven to 180c degrees and line a 20cm square cake tin.
Place the butter, sugar and vanilla in a bowl and beat with electric beaters for 5 minutes of until light and fluffy.
Add the egg and beat for a further minute.
Sift the flour and matcha and fold the mixture until combine.
Place the mix in the tin and bake in the oven for 25 minutes or until lightly golden on top.
To make the icing place the gelatine and 75ml of boiling water in a small bowl and whisk until the gelatine has dissolved and thickens.
In another bowl using electric beaters beat the butter and sugar until light and fluffy.
Mash the raspberry with a fork then beat the raspberry until well combine.
Add the gelatine and beat until the mix is smooth and combine.
Pour the icing mix over the cake base then place in the fridge for at least 3 hours to set.
Notes:
Matcha is a green tea powder that can be found in Asian supermarkets or specialty stores.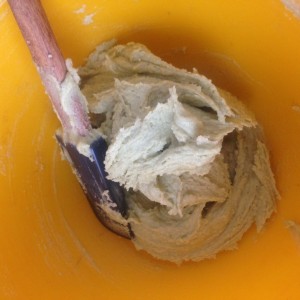 Step 4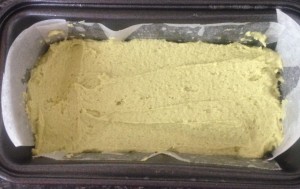 Step 5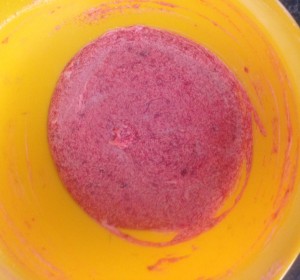 Step 9
Step 10
Like this recipe? Subscribe via RSS or email to get my new entries and more scrumptious recipes with reviews.