Peanut and Raspberry Ricotta Cheesecake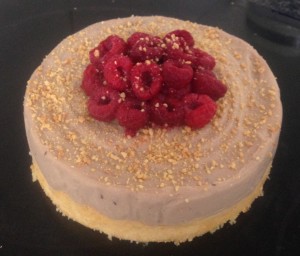 So often when I come across ricotta cheesecake recipes they seem to have more cream cheese, mascarpone or cream than they do ricotta. So I decided to make a ricotta cheesecake with ricotta and no other cream or cheese inclusions.
For the flavour, I actually played around with many different fruits and flavors but found the texture always ended up too soft or the ricotta flavour overpowered the fruits flavors. Therefore, I ended up opting for ingredients that were thick in texture and strong in flavour. Now, you may recall in the past I have posted a peanut butter and jelly sandwich slice recipe which was one of my first experiments with the peanut and fruit flavour combo's. This combo worked very well, was strong and as I used peanut butter and jam the mix would not thin the ricotta out too much. The outcome a very satisfying, creamy, tasty RICOTTA cheesecake! In fact, my father actually told me this was the best cake I have made! On top of this it is super easy to make with only 7 steps!
Ingredients
Base:
210g plain sweet biscuits
85g butter
Cake:
90ml milk
1 tbsn gelatine powder
500g ricotta
90ml golden syrup
240g raspberry jam
150g peanut butter
175g condensed milk
Method:
Line a 20cm cake tin with baking paper.
Place the biscuits and butter melted in a food processor and blitz until the mix resembles breadcrumbs.
Press the mix into the bottom of a cake tin and press with fingertips until the base is firm.
Place the tin in the fridge to firm.
Heat the milk in the microwave until bubbling then sprinkle the gelatine in the milk. Wisk with a small hand whisk until the gelatine is well combine and no lumps. Leave mix aside to cool slightly.
Using electric beaters whisk the ricotta with the condensed milk until; smooth and creamy.
Pour the milk mix into the ricotta mix along with the peanut butter and jam and beat to a smooth consistency. Whisk until well combine then pour the mix onto of the base and place in the fridge to set for 3 hours. Then remove the cake from the tin and serve.
Notes:
I have decorated with crushed peanuts and fresh raspberries.
Step 2
Step 3
Step 7
Step 7
Like this recipe? Subscribe via RSS or email to get my new entries and more scrumptious recipes with reviews.