Boozy Butterscotch Caramel and Peanut Ice-Cream
This is such an interesting recipe to me as it was one of my more colorful experiment sessions. So this recipe came from me creating a butterscotch and caramel layer cake with a peanut ice-cream filling. I should have known that adding the ice-cream layer to a cake would mean I would need to freeze the cake in its entirety and that cutting the cake would mean the ice-cream filling would flow out the sides!
The solution to this is to make a sponge cake, but of course by the time I realized this I had already baked the cake!
So what to do? I really liked the ice-cream filling I created so I added some caramel and a few other little layers to turn it from nice to "pow exciting"!
Next a bit of a controversial move, based on recent recipe requests I wanted to make the recipe quick and super easy, so…replaced homemade ice-cream with store brought.
Ingredients:
650g vanilla ice-cream
160g brown sugar
70g peanuts, chopped
120g peanut butter
170ml butterscotch schnapps
20g butter
35ml thickened cream
Method:
Put the ice-cream in a bowl and place onto the microwave for 30 seconds or until the mix just softens slightly.
Place the peanut butter in the microwave for 30 seconds or until liquid consistency is achieved.
Add 30g of brown sugar, 50g of the chopped peanuts, peanut butter and butterscotch schnapps to the ice-cream and using a hand whisk beat until combine.
Place the remaining 130g brown sugar into a saucepan on high until the sugar has melted and bubbling.
Take off the heat and add the butter, stirring with a whisk until combine.
Add the cream and whisk with a hand whisk until the mix is smooth and glossy.
Pour the mix onto baking paper until cooled then in the freezer for 10 minutes to harden completely.
Break up the hardened caramel into small pieces and place into the mix, leaving 1/5th aside.
Whisk the caramel pieces into the ice-cream mix until combine.
Pour the ice-cream into a bowl and place into the freezer for 4 hours or until completely set.
To serve scoop the ice-cream out into 4 cocktail glasses and top with the remaining 20g of chopped peanuts and caramel pieces.
Notes:
You can also serve with a caramel or peanut flavored sweet thin biscuit or wafer.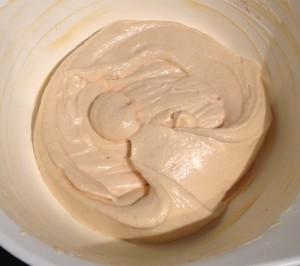 Step 1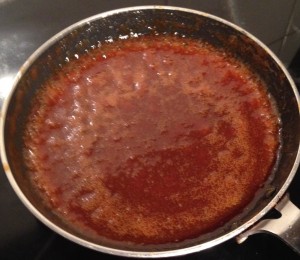 Step 4
Step 7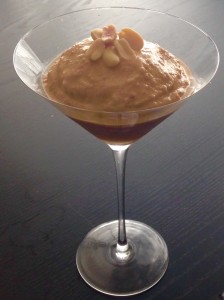 Step 11
Like this recipe? Subscribe via RSS or email to get my new entries and more scrumptious recipes with reviews